The History of Salsa Music
The history of Salsa music is rich and varied. Salsa's full story can rival that of any dance music that is still widely popular today. There were a large amount of fortunate factors involved in its conception. For one, did you know that Salsa is actually the result of a mixture of different Latin musical rhythms? The root of Salsa music is certainly Cuban but with subtle Afro-Cuban and Spanish influences. There is one city in America that could be labeled as the progenitor of Salsa music; New York City. With it's rich cultural diversity, NYC was the perfect place to diversify and expand Salsa music. As early as the 1940s, Cuban music is already thriving in the city, thanks primarily to the dawn of the Mambo era. In the 1950s, permanent settlers from Puerto Rico and Cuba in New York surged as well. The environment was conducive for Latin dance music to flourish and evolve. Nonetheless, it wasn't until the middle part of the 1970s that the actual term "Salsa" was conceived. The term was coined as being more friendly to the masses. The transition from Mambo to Salsa was also indicative of the evolution of the musical style. It was the Spanish Harlem (aka El Barrio) that served as a center of the development of Salsa as a major dance music genre. With Celia Cruz, the Queen of Salsa, at the forefront, Salsa music didn't take long to become a hit in the United States. It was she who gave a more lucid definition for salsa as well. Celia is noted as saying that it is actually not so much a rhythm as an opulent mix of stylres. The Cha Cha Cha, Bolero, Son, Rumba, Danzon, and other styles of Cuban origin contribute to the sounds of Salsa music.
The influence of Fania Records on the impact of Latin dancing as we know it today can't be denied. Fania, after all, became one of the most well-known record labels of Latin music. The successful record label was especially influential during the height of Salsa's popularity. In fact, Larry Harlow, a band arranger from Fania Records, gave Salsa a modern touch by including an electric piano in its performances. Mr. Harlow was also responsible for Salsa's entrance into the opera scene. Notable masterpieces include Hommy and La raza Latina, a Salsa Suite.
Salsa music started and expanded from New York to other Latin American countries like Colombia, Puerto Rico, and Venezuela, to cite a few. The fusion of Jazz and Funk into Salsa music really added to the development of the Salsa style. With that said, the golden age of Salsa would rightfully be attributed to the 1960's and 1970's. The variety of sounds that came from New York City helped the whole world catch Salsa Fever.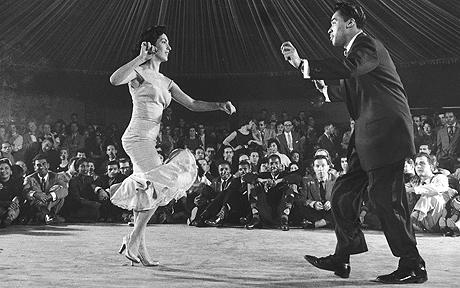 Article by Mixed Motion Art Dance Academy
Photo by Social Dance Community